On the Water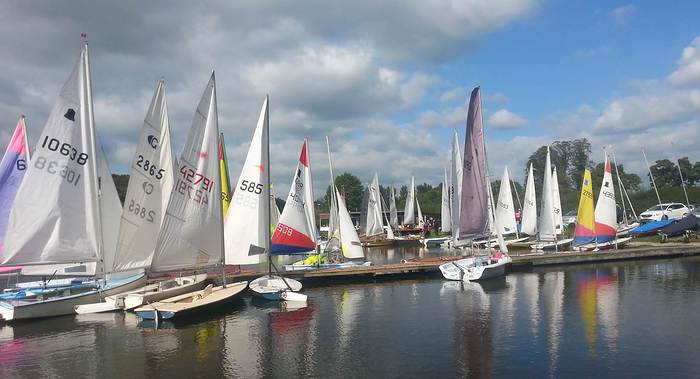 At Redesmere Sailing Club there is sailing for everyone; including a range of Social Sailing for those who wish to potter, practice or pop down for a drink; Racing for all levels of ability, from novices to extremely experienced, providing varying degrees of competition for all; Training and support for those who simply wish to improve their skills and/or experience; alongside a programme of Standup Paddleboarding (SUP) and RC sailing sessions for Members who want to enjoy the water in a different way.
With a large fleet of Club Boats, Buoyancy Aids and a small number of Club SUPs available to all Members, free of charge - there is no need to have your own boat or equipment to sail and so, with no pre-booking required, you can simply turn-up and play. All we ask is that Club Boats and Buoyancy Aids etc are treated with respect and that if any accidental damage or breakage does occur it is reported promptly to the Facilities Team so that repairs can be carried out before the next sailing session.
If you are interested in sailing, but not sure if it is for you, please pop-down to one of our Saturday Social Sails and we should be able to arrange a Taster Sail for you; alternatively, Contact Us and we'll arrange to meet you at one of our regular events for a Taster Sail.
The Club is an RYA accredited training centre, RYA Champion Club and RYA OnBoard Club, providing RYA certified training for all levels from beginner to advanced. Our RYA qualified instructors are all volunteers and support the Club to run its popular and comprehensive training programme

The Club has a packed Calendar with a number of social and fun sailing events as well as racing, SUP and RC sailing and a varied programme of supported and mentored sailing opportunities to ensure that everyone can get out on to the water and enjoy their time on the water whatever their experience, expertise or aspiration.